10 Benefits of Infographic Design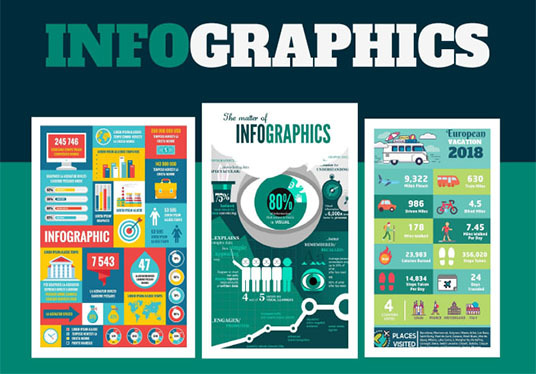 The infographic is a combination of information and graphics. It is used when one wants to deliver information, by using graphic design and animation. And this digital world most people prefer to pass information by images, as it is easy for the receiver to understand while using infographics. By the passage of time majority of audiences out there enjoy and appreciate Infographic. Not only this even the big companies and brands, admire Infographic while doing their publicity and promotions. As it is a very basic and effortless key to attract audiences and grab their attention.
Let me share some basic types of Infographic:
Timeline.
Data visualization.
Anatomy.
Comparisons.
List.
Maps.
These are some basic types and most useful types of Infographic, which we usually used and observe in many aspects.
Now I will share the advantages of Infographic designs, which will help you for sure.
Visuals are better than text:
Ninety percent of people of the world highly recommend and prefer Infographic, as Infographic make things easy to understand. And it is also scenically proven that our brain understands things 60,000 times more when it is presented in graphical form. Audiences get more engaged with the information when it is represented in the form of diagram and designs, apart from it our brain enjoys and remember things more efficiently and long-lasting when it is present in the form of Infographic.
Data sounds boring in a text form and even is hard to remember, but when data's are represented in the form of graphics audiences quite enjoys it and show their interest more vividly.
For example, most people enjoy physics as compared to chemistry, because it is hard to see gases in the air as compared to see electrons or protons.
Best way to explain visual stories:
Most of the time, especially if we talk about ancient times it was very hard to explain some sort of stories with their shapes and other things. But now by the passage of time, it is very easy to create any type of scenario or situation. Even in this advanced world, the education system is adopting infographics. So that it will become easy for students to understand with fun.
Infographics are simple and comfortable:
Infographics have been playing a vital role particularly in the education sector, things which were hard to define in the previous time, are now very easy to show and give a lecture about it to students. Students also enjoy it which automatically increases their interest level in education.
Infographics are highly preferable:
If we talk about brands or small businesses or anything else, so everyone now prefers Infographics. Especially while one is doing promotion or publicity because explaining your brand in detail verbally is a lot more difficult than explaining you're brand's concept through graphics. Even audiences enjoy and show more interest in Infographics.
Infographics can be shared:
In this busy world where everyone has digital mobile phones and everything can be searched through Google. So in this digital age sharing documents or some research from one place to another is very convenient, so in the same way Infographics in also effortless to less from one person to another.
Work as an expert:
If you are working on Infographics or even if you are just sharing Infographics, so it will leave a professional impression of ours on others. They will start dealing with you like an expert and you will become a part of their good book.
More visitors:
If you will promote your business or brand just through Infographics, they will increase your visitors or audiences. Because good Infographics will automatically help you and your brand to attract audiences. So make eye-catching Infographics, which can easily grab audiences.
Can be track:
Infographics allow the company to keep an eye on the records and success chart. You can easily track your brands or companies' progress and prosperity just by keeping eye on Infographics.
Sales increase:
A good, magnificent, and eye-catching Infographics also helps your company and brand to increase sales. Even many companies use Infographics as their sales tool. This is because, when people see your brand promotion through Infographics, they pentad to remember it in the long term. As they find it eye-catching and attractive, which automatically affects their sales and also helps the company to grow.
Increase Satisfaction of workers:
Through Infographics you can give all information about your brand or company to your workers or employee, which shows that you trust your workers and in this way, you satisfy them and make them happy. You're this attitude towards your worker also shows your caring nature for them, which is also beneficial in the market. Make sure not to make long and time-wasting Infographics, it should have basic information for the audiences. As people don't really enjoy long paragraphs, they just look for the rough image of your brand or company products. Infographics should be creative and have basic information.
All ten advantages of Infographics which have been explaining above are very practical steps towards your company's success. Using Infographics will be very beneficial for your company's growth, progress, and prosperity. Infographics are likely to attract audiences and grab their attention, which will automatically increase your sales and value in the market. Using Infographics will make you an expert, in front of others. Just make sure that your Infographics should be creative and informative for the audiences.